Through traditional and digital channels every customer interaction is an opportunity to increase customer satisfaction, loyalty and advocacy, build engagement and boost long-term revenues.
Without the right tools, the organisation's efforts to improve the customer experience may run short and not deliver the customers desired experience in one or more channels, resulting in missed opportunities to drive loyalty and even regression as customer's demands increase.
BusinessOptix enables organisations to design, deliver and manage consistent experiences at every stage of their lifecycle from searching for information to onboarding, use and providing help and support.
BusinessOptix capabilities support organisations through the journey of understanding where they are today and designing their future state: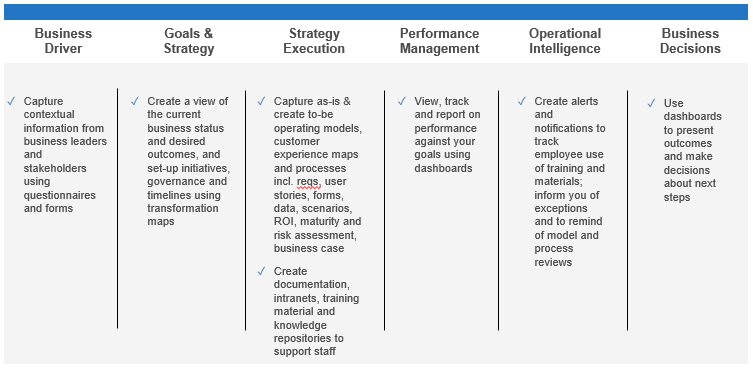 In financial services, health and life sciences, manufacturing, retail, telecoms, media and government sectors, BusinessOptix single platform is being used to improvements in customers customer experiences.
From business leaders to enterprise architects, analysts, consultants and front line staff, BusinessOptix is able to support the multiple roles involved in a transformation. For example, business leaders can be supported to define the strategy and targeted outcomes, while analysts, architects and consultants can be supported to execute the strategy in a shared workspace that ensures bi-directional communication and timely delivery of the initiative to end users.
Let us help you transform and improve now