From multi-channel customer journeys to robotic process automation (RPA), IoT, big data, and digital processes digital business is about embedding Internet century tools, applications and ways of working into the heart of the business.
Without the right tools to help the organisation embed digital capabilities in the heart of its operations, benefits of the digital economy will pass the organisation by and operational efficiency and effectiveness targets will be missed.
BusinessOptix enables organisations to harness the digital opportunity through the ability to utilise new and adaptive business models, create new customer experiences across digital and physical worlds, enhance the flow of information across teams and functions, streamline and digitise business operations, and empower employees with the right information at the right time.
BusinessOptix capabilities support organisations through the journey of understanding where they are today and designing their future state: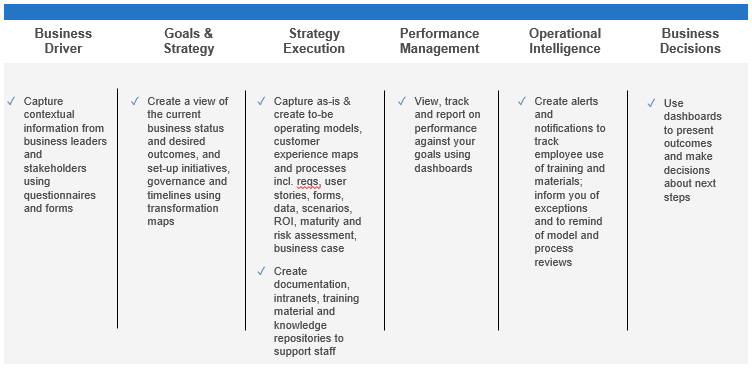 In financial services, health and life sciences, manufacturing, retail, telecoms, media and government sectors, BusinessOptix single platform is being used to re-architect business and operating models, drive the adoption of agile methodologies, create and integrate multiple channels to support digital and traditional customer experiences, and deliver digital processes.
From business leaders to enterprise architects, analysts, consultants and front line staff, BusinessOptix is able to support the multiple roles involved in a transformation. For example, business leaders can be supported to define the strategy and targeted outcomes, while analysts, architects and consultants can be supported to execute the strategy in a shared workspace that ensures bi-directional communication and timely delivery of the initiative to end users.
Let us help you transform and improve now