Financial reporting, transaction processing, operational reporting, budgeting and forecasting, procurement, investments, risk management, cash management etc., all organisations need to keep a handle on their financial operations to ensure a smooth flow of money in and out.
Whether transforming or improving, without the right tools to understand and design your financial operations, the organisation may fail to achieve its desired outcomes.
BusinessOptix enables organisations to develop, implement and manage internal processes and controls, meet regulatory compliance and ensuring best practise in the team, systems, service levels, simplify the complexity of financial operations.
BusinessOptix capabilities support organisations through the journey of understanding where they are today and designing their future state: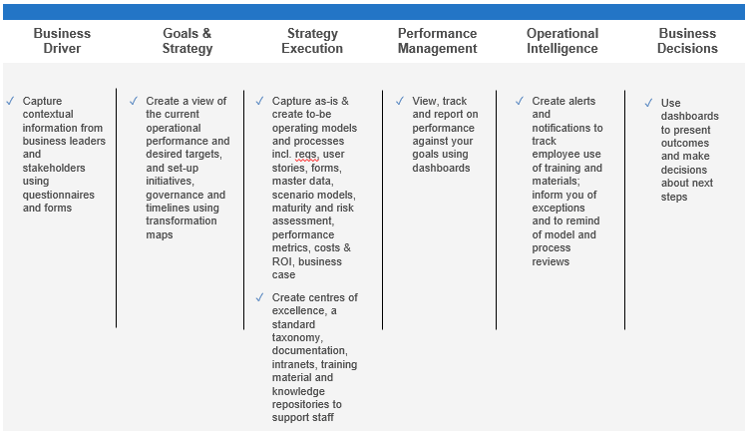 In financial services, health and life sciences, manufacturing, retail, telecoms, media and government sectors, BusinessOptix single platform is being used to drive efficiencies in financial operations.
From chief finance officers to financial controllers, enterprise architects, analysts, consultants and front line staff, everyone has a role to play. For example, the business leader can define the strategy and targeted outcomes, while analysts, architects and consultants can execute the strategy in a shared workspace that ensures bi-directional communication and timely delivery of the initiative to end users.
Let us help you transform and improve now