MFID II, AML4, PSD2, SOX, PCI-DSS, and many other compliance regulations must be adhered to be a good corporate citizen and avoid litigation, financial penalties, regulatory constraints, and reputational damage that can strategically affect an organization.
Without tools that enable the organisation to apply financial regulations it runs the risk of falling foul of the regulators wrath leading to fines and penalties, as well as receiving the associated negative publicity.
BusinessOptix enables organisations to design and implement controls that follow and prove compliance with regulations.
BusinessOptix capabilities support organisations through the journey of understanding where they are today and designing their future state: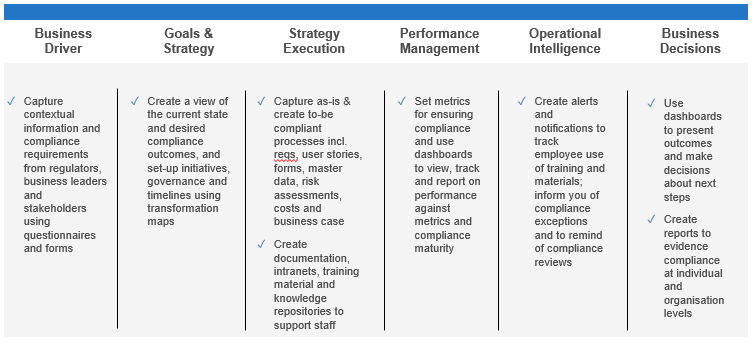 In financial services organisations, BusinessOptix single platform is being used to design enterprise-wide compliance frameworks, standards, controls and processes; develop risk assessment tools, policies and procedures, and deliver evidencing capabilities.
From business leaders to compliance officers, enterprise architects, analysts, consultants and front line staff, BusinessOptix is able to support the multiple roles involved in a transformation. For example, business leaders can be supported to define the strategy and targeted outcomes, while analysts, architects and consultants can be supported to execute the strategy in a shared workspace that ensures bi-directional communication and timely delivery of the initiative to end users.
Let us help you transform and improve now