From procurement to manufacturering, logistics and distribution, manufacturing and supply chain management is a complex task that must continuously achieve cost savings, high quality and customer service levels, effective risk management, employee satisfaction and operational excellence.
Without the right tools, the organisation may not be able to set-up, improve and optimise its manufacturing and supply chain operations, leading to missed opportunities to achieve the above target outcomes.
BusinessOptix enables organisations to create, deliver and manage supply chain operations covering the flow of goods and services from supplier to customer.
BusinessOptix capabilities support you through the journey of understanding where you are today and designing your manufacturing operations and supply chain: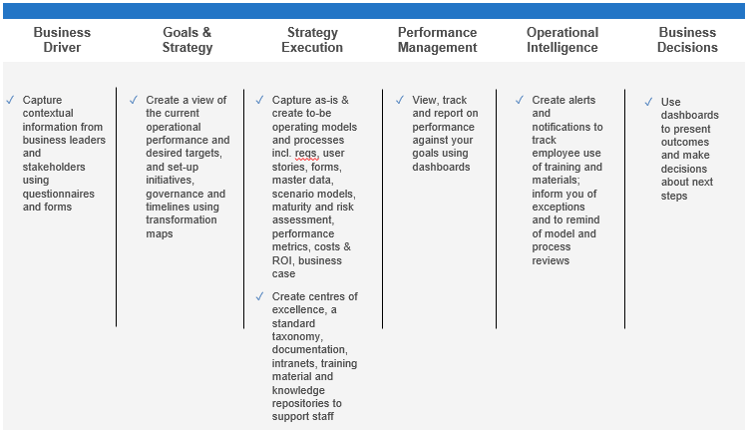 BusinessOptix single platform is being used to understand and create the supply chain model from identifying constraints that block performance improvement to understanding asset utilisation, demand planning, model the flow between all actors in the chain. It is also being used to create global and regional centres of excellence, common standards around process owners and ownership roles, process standardisation,
From business leaders to enterprise architects, analysts, consultants and front line staff, BusinessOptix is able to support the multiple roles involved in a transformation. For example, business leaders can be supported to define the strategy and targeted outcomes, while analysts, architects and consultants can be supported to execute the strategy in a shared workspace that ensures bi-directional communication and timely delivery of the initiative to end users.
Let us help you transform and improve now