Across cost, cycle time, productivity, efficiency, ABC and various other performance and quality measures, organisations strive to achieve operational excellence that supports the corporate objectives and strategy.
Without tools that enable the organisation to understand its operations and then implement corrective actions or new ways of working, the organisation running average instead of excellent operations.
BusinessOptix enables organisations to understand, shape and optimise operational centres of excellence, from HR, sales, manufacturing, product development, purchasing & supply management, supply chain management, service operations, and capital productivity and many other diverse areas of the business.
BusinessOptix capabilities support organisations through the journey of understanding where they are today and designing their future state: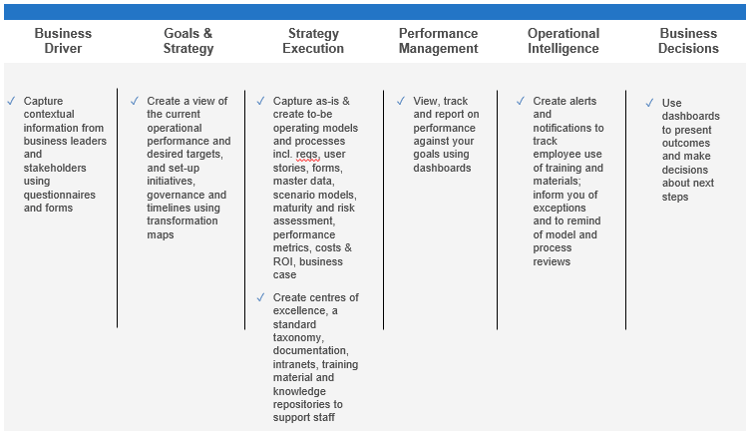 In financial services, insurance, health, government etc. sectors, BusinessOptix single platform is being used to understand current operating models and create new models that best utilises resources and capabilities to meet customer and business needs; design and implement end-to-end processes, procedures and policies that ensure they are fit for purpose, drive business performance and meet regulatory requirements; design, document, publish and share processes that internally drive governance and externally demonstrate regulatory compliance, and create, implement and manage standard and consistent programme and project management methods to guide teams through setting up and delivering programmes and projects.
From business leaders to enterprise architects, analysts, consultants and front line staff, BusinessOptix is able to support the multiple roles involved in a transformation. For example, business leaders can be supported to define the strategy and targeted outcomes, while analysts, architects and consultants can be supported to execute the strategy in a shared workspace that ensures bi-directional communication and timely delivery of the initiative to end users.
Let us help you transform and improve now