Robotic Process Automation (RPA) offers many opportunities for organisations to implement new and efficient ways of working across activities such as customer service, order processing, case management etc.
Without the right tools to enable you to complete the analysis and ABC, the organisation may not achieve the promised benefits of RPA and instead could target the wring processes resulting in little if any benefits.
BusinessOptix provides a way for you to understand and identify the areas where RPA will deliver the most value and then develop appropriate processes.
BusinessOptix capabilities support organisations through the journey of understanding which processes are prime candidates for RPA and designing the RPA state: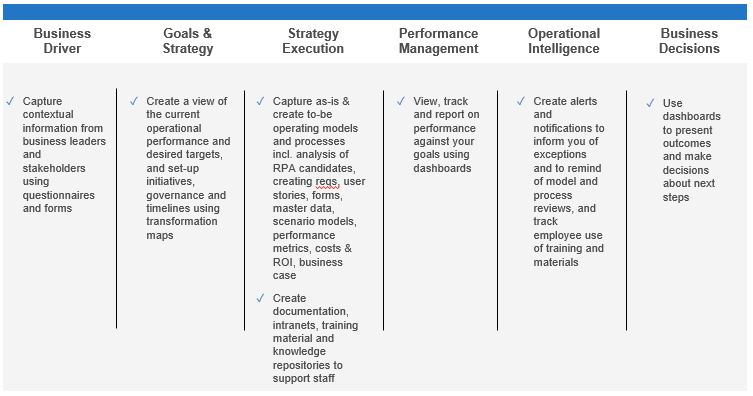 In financial services, health and life sciences, manufacturing, retail, telecoms, media and government sectors, BusinessOptix single platform is being used to set-off and drive forward moves to using RPA across areas such as financial operations, regulatory compliance, customer experience and business services.
From business leaders to enterprise architects, analysts, consultants and front line staff, BusinessOptix is able to support the multiple roles involved in a transformation. For example, business leaders can be supported to define the strategy and targeted outcomes, while analysts, architects and consultants can be supported to execute the strategy in a shared workspace that ensures bi-directional communication and timely delivery of the initiative to end users.
Let us help you transform and improve now