Operational transformation is fast becoming part of everyday life as organisations need to adapt and make stepped changes in order to deliver their digital agendas, build new capabilities and improve operational efficiency.
Without the right tools organisations risk transformation initiatives falling short and in doing so restricting the organisation's ability to compete and achieve its mid-to-long term aspirations.
BusinessOptix enables organisations to capture strategic goals and use these as the driver for defining and executing transformation strategies – all in a shared workspace that ensures bi-directional communication and alignment across all stakeholders.
Starting anywhere, BusinessOptix capabilities support organisations through the journey of understanding where they are today and designing their future state: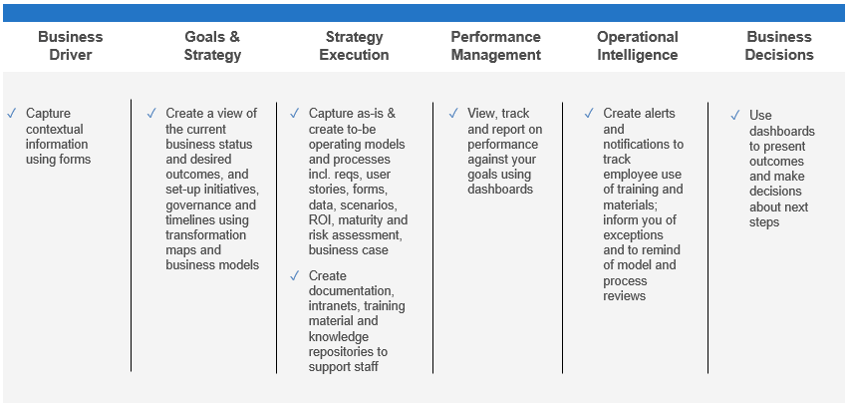 In financial services, health and life sciences, manufacturing, retail, telecoms, media and government sectors, BusinessOptix single platform is being used to drive transformation across areas such as financial operations, regulatory compliance, supply chain, customer experience and business services.
From business leaders to enterprise architects, analysts, consultants and front line staff, BusinessOptix is able to support the multiple roles involved in a transformation. For example, business leaders can be supported to define the strategy and targeted outcomes, while analysts, architects and consultants can be supported to execute the strategy in a shared workspace that ensures bi-directional communication and timely delivery of the initiative to end users.
Let us help you transform and improve now