Welcome to the April edition of the BusinessOptix newsletter!
As you know, BusinessOptix provides a comprehensive set of tools and features that can help you analyze your processes, identify opportunities for improvement, and drive greater efficiency and effectiveness across your operations.
Process mining is a complementary technique to process analysis, which helps to provide a more data-driven and objective view of how your business processes are working. By combining these approaches, you can gain a more comprehensive understanding of your business processes and identify even more opportunities for improvement.
Process mining could be your first step to achieving operational efficiency and effectiveness.
If you saw our LinkedIn post earlier this month you may have seen that BusinessOptix was recently recognized as a visionary in the 2023 Gartner® Magic Quadrant™ for Process Mining Tools. BusinessOptix was named as a visionary due to our ability to provide a comprehensive suite of process analysis and optimization tools and our focus on collaboration and ease of use. This recognition further reinforces BusinessOptix's commitment to helping businesses drive greater efficiency and effectiveness through process analysis and optimization.
---
What's Trending
Using BusinessOptix to identify opportunities to achieve continuous improvement in efficiencies and cost reduction.
To learn more read our latest fact sheet.
---
BusinessOptix Product Update
Self-help is live!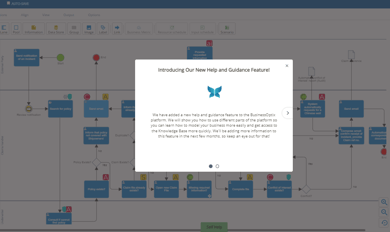 A self-help function in Author now makes it simpler to understand and use different features of the platform. You'll find a 'Self Help' link at the bottom of the page in Author. We will be adding and expanding information, including mini-tutorials, to this self-help function in the coming months.
---
Academy Updates
Our Power User 1 Certification program is now live!
We have also added a new guide to modeling in BusinessOptix using BPMN2.0.
Check out these new courses in the BusinessOptix Academy.
---
To contact support, please use: helpme@businessoptix.com
---
BusinessOptix sends this newsletter to you so we can provide you with timely updates on the latest releases, academy updates and additional information you might find useful on your digital transformation journey.  If you have any suggestions for information you would like to see in our newsletter, we welcome your input. Please email marketing@businessoptix.com with your newsletter content suggestions.
For support, please continue to use: helpme@businessoptix.com
For all other inquiries: operations@businessoptix.com