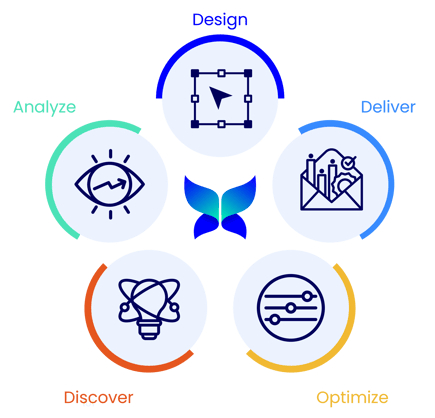 Welcome to the October 2023 edition of the BusinessOptix newsletter!
With BusinessOptix you have a living, breathing asset that allows you to continuously optimize your business operations. This month we dive into that final phase of an organization's process journey - "Optimize"

If you have followed along as we have outlined the first 4 phases - Discover, Analyze, Design, Deliver - in our newsletters, you should now have a better understanding of how to create a Digital Twin of your organization (DTO) with BusinessOptix.
A Digital Twin is your enabler of continuous optimization and efficiency of your operations, assuring you more informed and agile decision-making and heightened business resilience. A Digital Twin can be built up one process or business area at a time to give you invaluable operational transparency into the intricate dynamics between your business processes, personnel, and technology.
A Digital Twin allows you to:
Access and interrogate an intelligent data-driven repository of processes and procedures.

Chart your processes and controls to ensure your organization's compliance with industry regulations and standards.

Conduct simulations and delve into what-if scenarios, testing diverse situations, potential changes to gauge their potential impacts on operations.
Seamlessly integrate with various data sources and internal systems, capturing real-time data and information pertaining to your processes and operations.

Re-evaluate processes to glean insights into actual operational performance compared to the intended standards or expectations.

Stay updated with the ever-evolving processes and operations of your organization through version controls and approval workflows that manage changes and updates to the processes and procedures within your Digital Twin.
BusinessOptix offers a comprehensive solution for creating a Digital Twin of your organization, providing tools for modeling, mapping, simulation, and comprehensive management of various facets of your business.
Your Digital Twin serves as a dynamic and continually evolving representation of your business, offering valuable support in optimizing processes, making well-informed decisions, and adapting to the ever-changing landscape of the business world.
---
Insights
Gartner acknowledged BusinessOptix as being a core vendor in the Digital Twin of an Organization (DTO) market in 2023 (as well as 2020 and 2021). In the 2023 market guide, Gartner recognized that BusinessOptix offers enhanced scenario modeling, automation support, process mining, offline working, customer journey mapping, process as a grid, transformation outputs, and Kanban boards that support the creation of a closed-loop view of a business.
At its core, BusinessOptix is a cutting-edge digital twin platform with which to create a dynamic, sustainable replica of an organization's operations, processes, and procedures. This digital twin can adapt and evolve to mirror your organization's changing landscape.
We love helping you, our clients, implement a Digital Twin of your organization on BusinessOptix as it empowers you to gain deeper insights into your operations, identify bottlenecks, streamline processes, and helps your organization remain efficient and agile in an ever-evolving business environment. Please contact us for any assistance - whether that is simply to discuss your process journey, a new use case, or to arrange training or professional services, we love to hear from you and are ready to help!
---
Highlights
We are delighted to announce and show off our recent rebranding! If you have not already, please be sure to check out our new and improved website. You may also notice changes to our logo, presentation decks and collateral.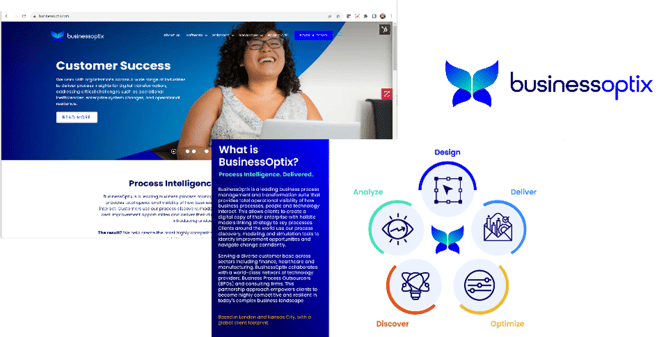 We had the opportunity to share our knowledge and insights during our recent Process Transformation webinar. Below, please find the links to the webinar recording and a document with the questions and answers collected. 
 Next webinar
Our aim is to provide useful and quality content to our client community. We will be sending out invitations to our next webinar on Continuous Improvement which is planned for Wednesday, December 6. Be sure to save the date.
---
Academy Updates 
Leveraging the power of data and analytics to provide a more accurate, efficient, and informed approach to discovering and improving processes. Check out our Process Mining overview video.
---
BusinessOptix sends this newsletter to you so we can provide you with timely updates on the latest releases, academy updates, and additional information you might find useful on your digital transformation journey.  If you have any suggestions for information you would like to see in our newsletter, we welcome your input. Please email marketing@businessoptix.com with your newsletter content suggestions.
For support, please continue to use: helpme@businessoptix.com
For all other inquiries: operations@businessoptix.com