Our Platform
Change the way you run your business forever. Create an agile, resilient and continuously adaptable organization with the BusinessOptix Process Transformation Platform.
Whether you are looking to enhance end-to-end customer experiences, eliminate operational inefficiencies, manage risk or create a digital twin, the BusinessOptix process transformation platform can help.
Use the BusinessOptix Process Transformation platform to continuously adapt and improve
BusinessOptix takes you from a world full of silos, chaos, manual fixes, and poor-performing operations into one where you are able to understand and continuously adapt and improve your business operations.
Using our mining, mapping, design, modeling, simulation, documentation, and planning capabilities, you can collaboratively improve your customer interactions, the way your employees work, and the results your business achieves – all on a single platform that's rich in capabilities and easy to use.
BusinessOptix: One platform, 6 core capabilities
With rich functionality, BusinessOptix 6 core capabilities provide an end-to-end toolkit that helps change and transformation leaders, risk and compliance officers, operational teams and analysts transform the way you discover, design and deliver initiatives.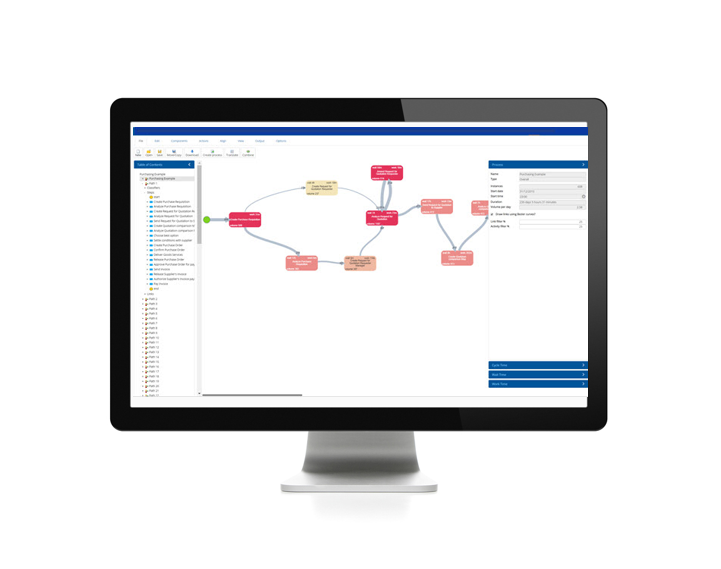 Process Mining
Mine your data to discover your real processes and understand what is really happening in your organization today.
BusinessOptix process mining capabilities provides a data-driven, fact-based approach to process improvement, leveraging empirical evidence to uncover how your processes really work. Starting by ingesting your system logs, the platform will visualize your data so you can see and analyse the flows, and start to identify opportunities for improvement.
Read More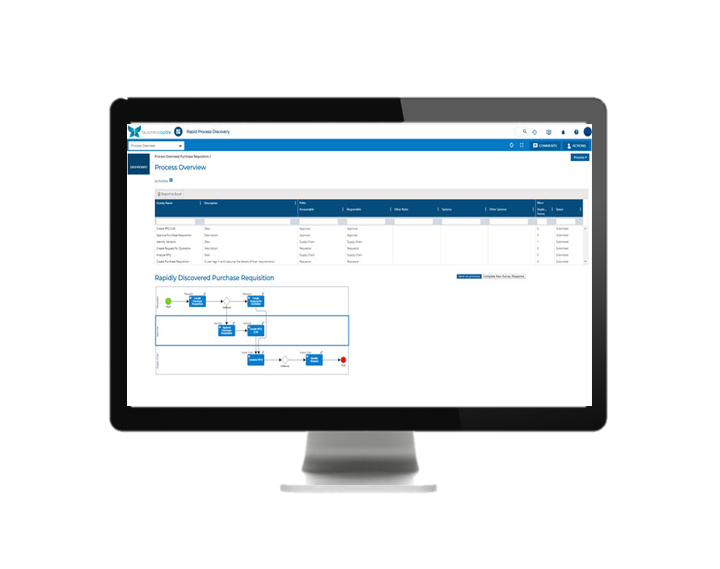 Process Mapping
Map current and future states of your processes and continuously improve.
BusinessOptix process maps enable business, technical and change managers to identify issues and bottlenecks within current processes. Once identified, you can act through designing improvements that yield greater operational efficiency, a more effective customer experience and better management of risk, compliance and audit requirements.
Mined or manually defined process models can include metrics and metadata such as resources (people and systems), timings, costs, risk models, compliance requirements etc.,
– all of which provide a single and complete view of your processes.
Read More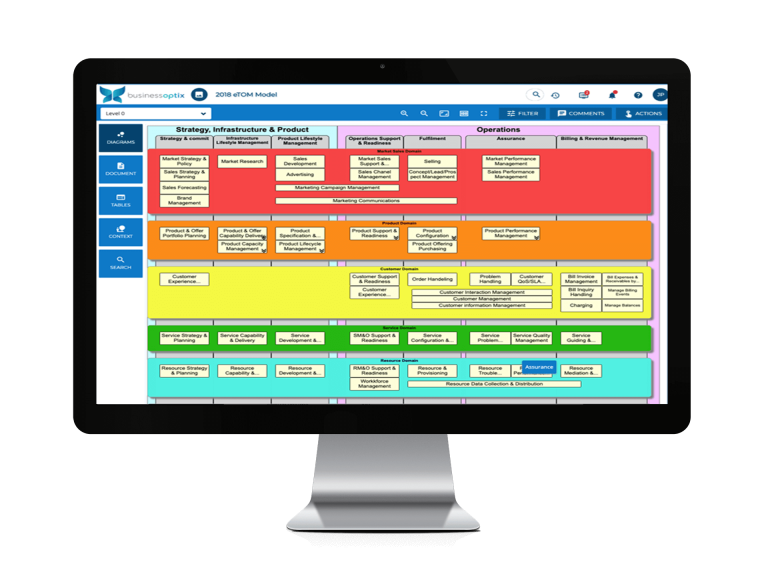 Target Operating Model Design
Create a top to bottom holistic view of your organization by linking your operating models to your processes.
BusinessOptix helps you align your operating model to your operational processes through making it easy to visualize and connect people, processes and systems vertically or horizontally across all areas of your business. And as the business evolves, changes to either will be reflected in your holistic view.
Starting at the top or bottom level, links between your operating models and processes can either be manually created or auto-generated at the touch of a button.
Read More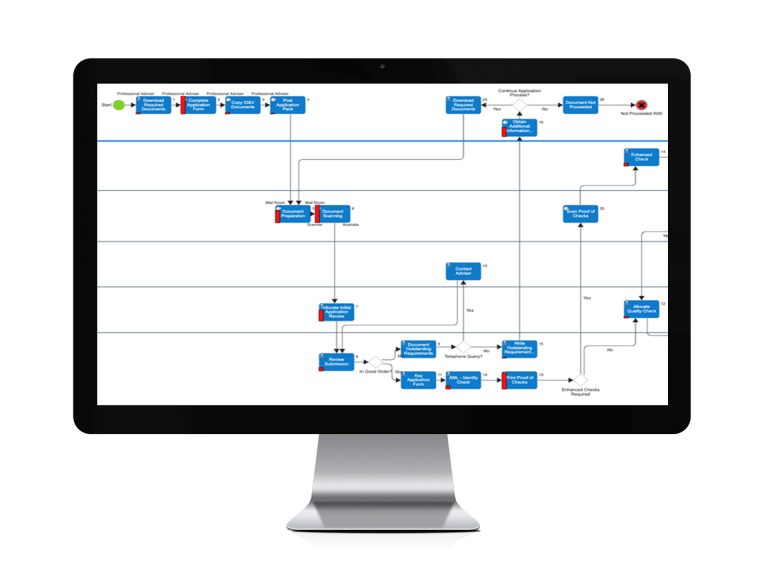 Scenario Modeling and Simulation
Create and test alternative flows and outcomes to identify improvements that will enhance the organization's performance.
BusinessOptix scenario modeling and simulation tools gives you the agility to move quickly and reduce risk by creating, testing and learning about potential opportunities for change (including automation and RPA) before they are rolled out to your customers and employees.
Driven by metrics such as time, FTEs, system utilization, costs, SLAs, etc. the tools enable you to model and compare data-driven views of stepped changes and optimizations to find your sweet spot for change.
Read More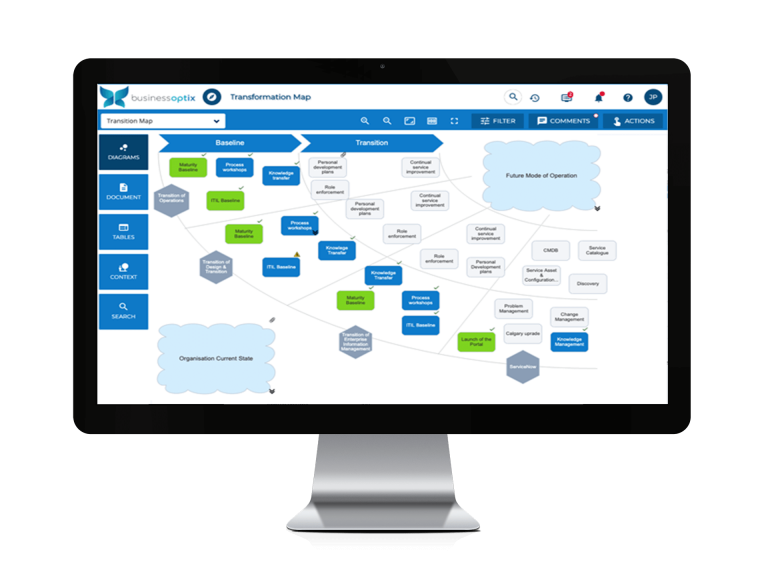 Process Transformation Planning and Analysis
Set goals, strategy and milestones to track your progress against performance targets.
BusinessOptix enables you to turn your vision into reality with transformation maps and dashboards that enable you to define, communicate and track goals, milestones, key metrics and priorities at all levels of your initiative. Analysis tools help you evaluate progress to date and forecast timelines and expected outcomes.
Governance is also supported through organization charts, RACI models and risk assessment tools that ensure you are on top of your initiative.
Read More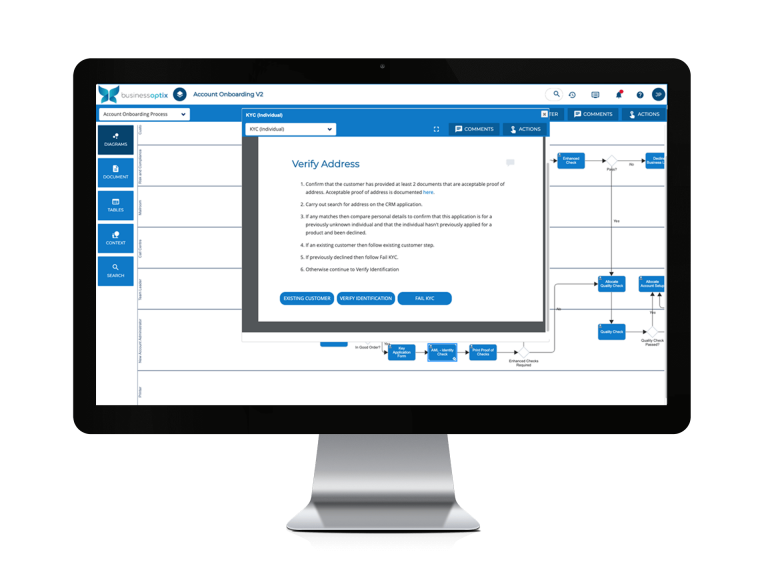 Documentation and Work Instructions
Build standardization and governance in new and transformed processes using interactive documents, work instructions and procedures.
BusinessOptix makes it effortless to create and share content with your teams – whether front line employees who need work instructions, reviewers who need to see the work in progress, developers who need user stories or change managers who create support programs, you can easily provide them with the content they need to do their jobs.
Read More
Why choose BusinessOptix?
Global change and transformation leaders, operational teams, risk and compliance officers and analysts have chosen BusinessOptix as it:
Delivers results and sizeable returns on investment

Provides a single cloud-based enterprise-scale platform that meets their end-to-end needs for collaboration and a central repository

Is intuitive, fast to roll out and easy to use for process experts and novices

Conforms to BPMN 2.0 standards

Is designed to adapt to your unique needs

Includes training and support to get started and develop users' skills and knowledge

Has ISO 27001 accreditation

Is recognized by Gartner and Forrester as an industry leader

Is delivered and supported by a team completely focused on helping customers achieve their business goals
How do you find out more and get started?
Many customers have found it useful to start with a free trial of the business process transformation platform. Trials can be customized to meet your needs and include access to the platform, training and/or professional services support to get you started.
We're ready to help you achieve your goals, click below to request your free trial.