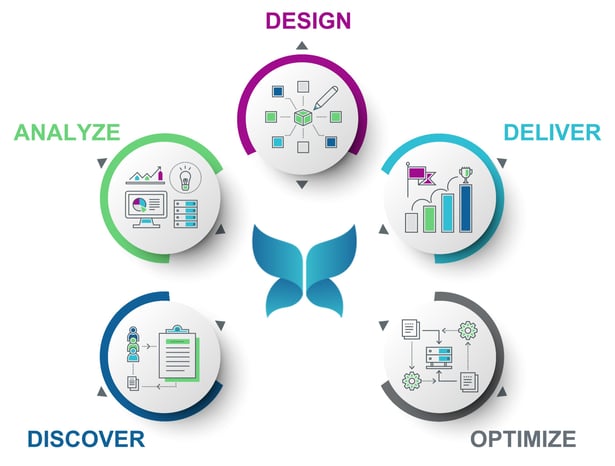 Welcome to the August 2023 edition of the BusinessOptix newsletter!
In this edition of the BusinessOptix newsletter, we dive into the "Design" phase of an organization's transformation or optimization journey.
During the Design phase, certain BusinessOptix capabilities are used to build, shape and manage your target future state, whether that is for a specific project, business or support area, or your organization's new operational model.

The key areas you might address during the design phase are as follows:
Design Optimal Future State Processes
Link to Target Operating Models
Reference Global Master Data (Systems, Roles, Locations and more)
Capture Metrics and Performance related data
Gather Requirements and User Stories using Forms
Generate the Business Case for Transformation
Support Change Management using Kanbans and Dashboards
If you need help with any of these features, please take a look at our Academy courses in the first instance. If you have a specific use case you need guidance on, please speak with a member of the BusinessOptix team to discuss your use case and we can assist you on how to best to achieve that in the platform.
---
Design: Creating a Foundation for Measuring Success and Progress of a Change Initiative
The design phase establishes a foundation to measure transformation success and progress.
Engaging stakeholders within BusinessOptix to gather requirements ensures alignment with business and employee needs.

Metrics and performance data, captured against processes, will help you evaluate process effectiveness and identify opportunities for continuous improvement.

Modeling current and future state in the platform adds transparency, revealing benefits, costs, and risks for informed decision-making.

A robust business case for change is generated to inform stakeholders and garner support and commitment.
This phase sets the stage for effective change management, fostering successful transformations through transparency and collaboration. Empowering your associates to embrace and drive the changes will propel your business towards its optimal future state aligned with the company's strategic goals and vision.
In our blog, we dive a little deeper into contextualizing changes and linking them to the Target Operating Models to drive transformation.
---
What's Trending
Future-proofing your target operating model
In today's rapidly evolving business landscape, it is important to set up a sustainable way of working that will continue to be effective long into the future. Future-proofing your way of working can save your business money by making processes work better and having better control. BusinessOptix helps you future-proof through:
Smart information: collating and using helpful information to make smart decisions and take actions

Flexibility: being able to change and adapt things quickly and easily

Using Technology Smartly: to do things in the best way
In the context of a "future-ready operating model", using technology smartly means embracing digital advancements to streamline operations, improving decision-making, and enhancing customer interactions. It is not only about adopting the latest technologies, but about selecting the right tools that align with the company's vision and goals. By doing this, businesses can stay ahead of the curve, respond effectively to changing market demands, and remain adaptable in an ever-evolving business landscape.
To learn more, read a recent article from WNS where they talk about 3 critical levers to better business alignment.
---
Share your feedback on BusinessOptix
We would like to thank everyone who took the time to fill in our survey and share your valuable feedback last month. Your insights are incredibly important to use as we strive to improve our offerings to enhance your experience.
For those who missed the chance to fill in the survey, it's not too late - the survey is still open and we welcome your input.
---
Announcement
BusinessOptix Webinar Series
Many of you have asked so we are excited to announce the return of our client webinar series! Our first webinar will be held at the end of September. Keep an eye on your inbox for your invitation.
During this 30-minute webinar we will dive into the world of process transformation and its benefits. Don't miss this opportunity to empower your process transformation journey with the insights, techniques, and tools that BusinessOptix has to offer.
Discover how to:
Seamlessly transition from your current process model to a future state, facilitating smoother documentation and comparison.

Showcase various process states to stakeholders while effortlessly toggling between them.

Capture crucial metrics regarding costs and revenue, both present and future, all while efficiently crafting the essentials for your business case.

Utilize the dedicated Process Transformation Tab, incorporate essential RACI/Metrics, and strategically integrate ROI timeframes.

And so much more!
Be sure to join us for our 1st webinar where you'll not only gain valuable knowledge but also revitalize your approach to process optimization.
See you at the webinar!
---
Academy Updates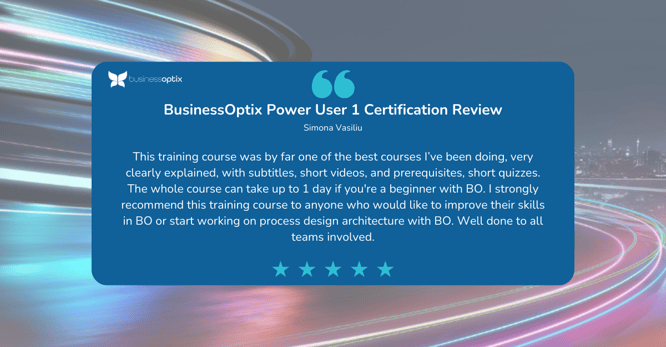 Our Certification course continues to be a popular choice and is well-received by our clients and partners.

We want to express our appreciation to those who have shared their valuable feedback on the Power User 1 Certification course. Your insights are incredibly important to us as they help shape and refine our training programs and services.
---
BusinessOptix sends this newsletter to you so we can provide you with timely updates on the latest releases, academy updates, and additional information you might find useful on your digital transformation journey.  If you have any suggestions for information you would like to see in our newsletter, we welcome your input. Please email marketing@businessoptix.com with your newsletter content suggestions.
For support, please continue to use: helpme@businessoptix.com
For all other inquiries: operations@businessoptix.com