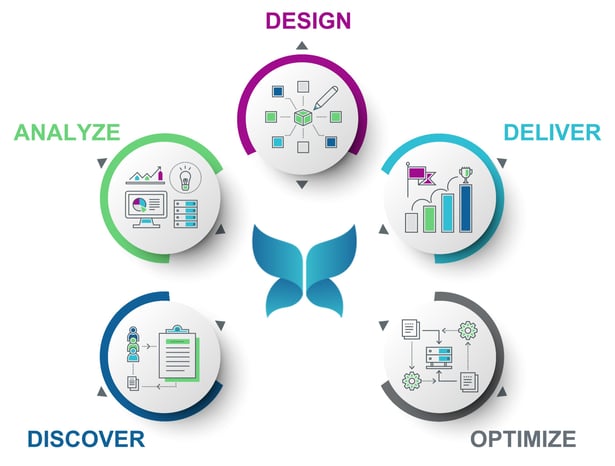 Welcome to the September 2023 edition of the BusinessOptix newsletter!
In this edition of the BusinessOptix newsletter, we dive into the "Deliver" phase of an organization's transformation or optimization journey.

BusinessOptix provides a comprehensive set of tools and capabilities that empower you to execute your transformation initiatives successfully:


Interrogate your repository of processes to identify opportunities
Toggle between current state and future state views of your processes to show and deliver change
Communicate and collaborate with stakeholders within the platform
Build scenarios and simulate change prior to implementation
Use dashboards, Kanbans and T-Maps to visualize and plan the opportunities for change
BusinessOptix plays a significant role in assisting you during the deliver phase of your organization's transformation journey as you gain understanding, engagement, innovation, and effective management of change.
---
Transforming Business Processes with BusinessOptix: Unlocking Success in the Deliver Phase
With BusinessOptix you may already have discovered and designed your processes, giving you the foundations for gaining transparency and understanding of your operations. This operational transparency is now your key enabler for successfully delivering transformation within your organization:
Process Analysis. Review the documented processes to identify gaps, inefficiencies, and bottlenecks and to gain insights into opportunities for improvement.
Stakeholder Collaboration. Process owners and stakeholders can visualize and compare the current, future, and change states of the processes.
Innovation Management. Transparency sparks creativity and encourages ideas and solutions. These opportunities can be captured in forms and management in dashboards and Kanbans.
Continuous Improvement. A living process repository brings a transparency that supports a culture of continuous improvement, ensuring ongoing delivery of optimization and efficiencies.
Scenario Modeling & Simulation. Modeling and testing potential changes enable business analysts to assess the potential impact and outcomes, including RPI, of proposals before investing in operational or technological changes.
Risk Management. Visibility into processes, metadata and metrics allows for better risk assessment and management during the transformation.
Transformation Planning. Align deliverables and activities with the overall transformation objectives and timelines to monitor and evaluate your transformation progress and achieve the desired outcomes.
Using an intelligent business process transformation platform like BusinessOptix can accelerate your digital transformation journey, with enhanced transparency, collaboration and decision-making to drive operational excellence.
---
What's New
During our customer survey this past summer we had many of you request the return of our product webinar series. Well, you asked, and we listened! We are excited to bring to you a new series of webinars that will enhance our customers' knowledge of BusinessOptix. If you haven't already registered, please be sure to click below and join our September webinar.
Register Today: Process Transformation with BusinessOptix webinar
Don't miss the opportunity to learn how to supercharge your process transformation journey with the insights, techniques, and tools that BusinessOptix can provide during our webinar.

Date: September 27, 2023

Time: 9:00 a.m. (CST), 3:00 p.m. (GMT + 1)

Platform: Zoom
Register now to secure your spot and gain access to the live event.
---
Product Updates
September release: We understand the importance of collaborative efforts in capturing valuable business information during a transformation or other process modeling project. With the enhanced collaboration feature, multiple authors can work on and edit the same model simultaneously as changes are visible and synchronized.
---
Academy Updates
Our learning team are listening to our community of users and adding useful courses and content to the BusinessOptix Academy. This month we have a recording of our webinar "Process Modeling 101: Creating a Blueprint for Success" to walk you through the essentials of process modeling.
---
BusinessOptix sends this newsletter to you so we can provide you with timely updates on the latest releases, academy updates, and additional information you might find useful on your digital transformation journey.  If you have any suggestions for information you would like to see in our newsletter, we welcome your input. Please email marketing@businessoptix.com with your newsletter content suggestions.
For support, please continue to use: helpme@businessoptix.com
For all other inquiries: operations@businessoptix.com