Digital Twin Enablement
Create a virtual copy of your organization and deliver your digital transformation, process change, and continuous improvement initiatives with a digital twin of an organization (DTO) from BusinessOptix.
What is a Digital Twin of an Organization (DTO)?
A DTO is a dynamic, holistic software representation of a real-world business (people, processes & technology) to understand what the organization is today and what it could be tomorrow. It's a working model of your organization that shows the current state, allows for simulation and planning of your future state, and enables the ongoing maturation of a company as it continually improves.
The DTO captures operational and contextual data in the software to describe how the service works today (use of resources and delivery of customer value) and how it will respond to change.
Digital Twin Enablement
Gartner's research has shown that the adoption of digital twins has rapidly increased. In their market guide, Gartner states a DTO helps enterprise architecture and technology innovation leaders prioritize, guide, plan, monitor, analyze and scale complex initiatives. Furthermore, digital twin technology allows leaders to explore options and reduce the risk of chosen paths as the company moves forward. In that same market guide, Gartner highlighted BusinessOptix as at the forefront of the Digital Twin of an Organization market.
The BusinessOptix transformation platform can take an organization from modeling its current business structure, functions, and processes to running simulations to allow for scenario planning around possible future states to create a truly transformative organization. Multiple iterations enable the understanding and continuous improvement of operations through discovering, modeling, and testing various alternative scenarios before moving on to delivery.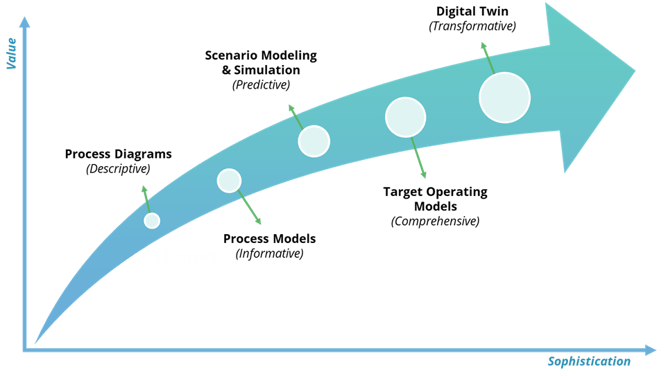 The Value of a Digital Twin and How BusinessOptix Can Help
The BusinessOptix Transformation Platform enables you to create a digital twin and simulate various scenarios in a virtuous cycle of capturing process performance, modeling scenarios, running experiments, and using this information to set the next course of action and improve the change management process. Creating a digital twin with BusinessOptix is the first step to transforming your business process management function from a linear process with a beginning and an end to a cyclical one where the goal is continuous improvement and operational excellence.
A digital twin will help to answer questions such as: are there opportunities to deliver more value and a better customer journey? Will using RPA improve productivity and performance? Are additional resources required to handle increased activity volumes, e.g., due to a successful sales campaign or an unexpected increase in customer service requests? Will a change in working patterns increase or reduce process cycle times? Will a change in a process increase or decrease our risk profile?
To learn more, read our white paper, How to create a Digital Twin of your Organization's business operations.
Get Started Today
Contact us today to start creating your digital twin. We'll support you with access to training and professional services to help get you started.
Delivering Tangible Business Solutions