Process Mining
Unlock the full potential of your organization with BusinessOptix process mining. Gain unparalleled insights into the inner workings of your business and discover where improvements can be made. Our process mining solution allows you to analyze data from your systems and processes, providing you with a comprehensive view of where your people, processes, and technology are being utilized.
By identifying variations and bottlenecks in your operations, you can make informed decisions to optimize performance and drive growth. Utilize the power of process discovery, and take a data-driven, fact-based approach to process improvement with BusinessOptix. Harness the power of empirical evidence to uncover opportunities for optimization and improve your processes in the real world. With BusinessOptix you can achieve Business process improvement, process discovery and process optimization, so what are you waiting for?
Unlocking the power of BusinessOptix Process Mining
BusinessOptix is your solution for process mining. Are you tired of guessing where improvements need to be made in your business processes? Our process mining solution can help.
Process mining can help you discover and define your processes, identify opportunities for improvement, and model future process flows. With our process mining solution, you can have the confidence that future process improvements are based on empirical evidence.
How does it work? It's simple. All you need to do is provide log files of the systems that support the processes you want to improve. Our platform will then analyze the data and provide you with valuable information about where improvements need to be made. With BusinessOptix, you can achieve business process improvement, process discovery and process optimization.
But the true power of BusinessOptix doesn't stop there. Our mining solution easily integrates with the rest of our platform, allowing you to continue on your journey of transformation from discovery to implementation. You'll have the information you need to make better decisions, achieve business transformation and achieve process optimization.
Improve visibility and understanding of the actual performance of business operations and processes, by investing in process mining.
Try BusinessOptix today and see the results for yourself. We can help you with log file analysis and achieve the business transformation you need.
Uncover hidden issues and opportunities with BusinessOptix Process Mining
BusinessOptix Process Mining is a powerful tool that uses data and insights from your event logs to identify constraints, prioritize improvement opportunities, and pre-empt compliance and regulatory issues. With a detailed visualization of your actual processes, you can see the paths, flows, frequency, wait time, bottlenecks, and other key data points. By highlighting problems such as staff training issues, system capacity, and compliance issues, you can use scenario modeling and simulations to create and implement alternative solutions.
The BusinessOptix Process Transformation Suite includes capabilities to mine event logs, identify improvement opportunities, and continuously monitor and improve processes. It allows you to capture a base of knowledge that can be used to support your overall business through creating documentation, proving compliance, and providing insights to support better decision-making.
It covers all aspects of the business, from corporate functions to operations and customer journey design, BusinessOptix can help you quickly identify and understand your business processes, and create a solid foundation for process improvement.
Read our Process Mining fact sheet to learn more.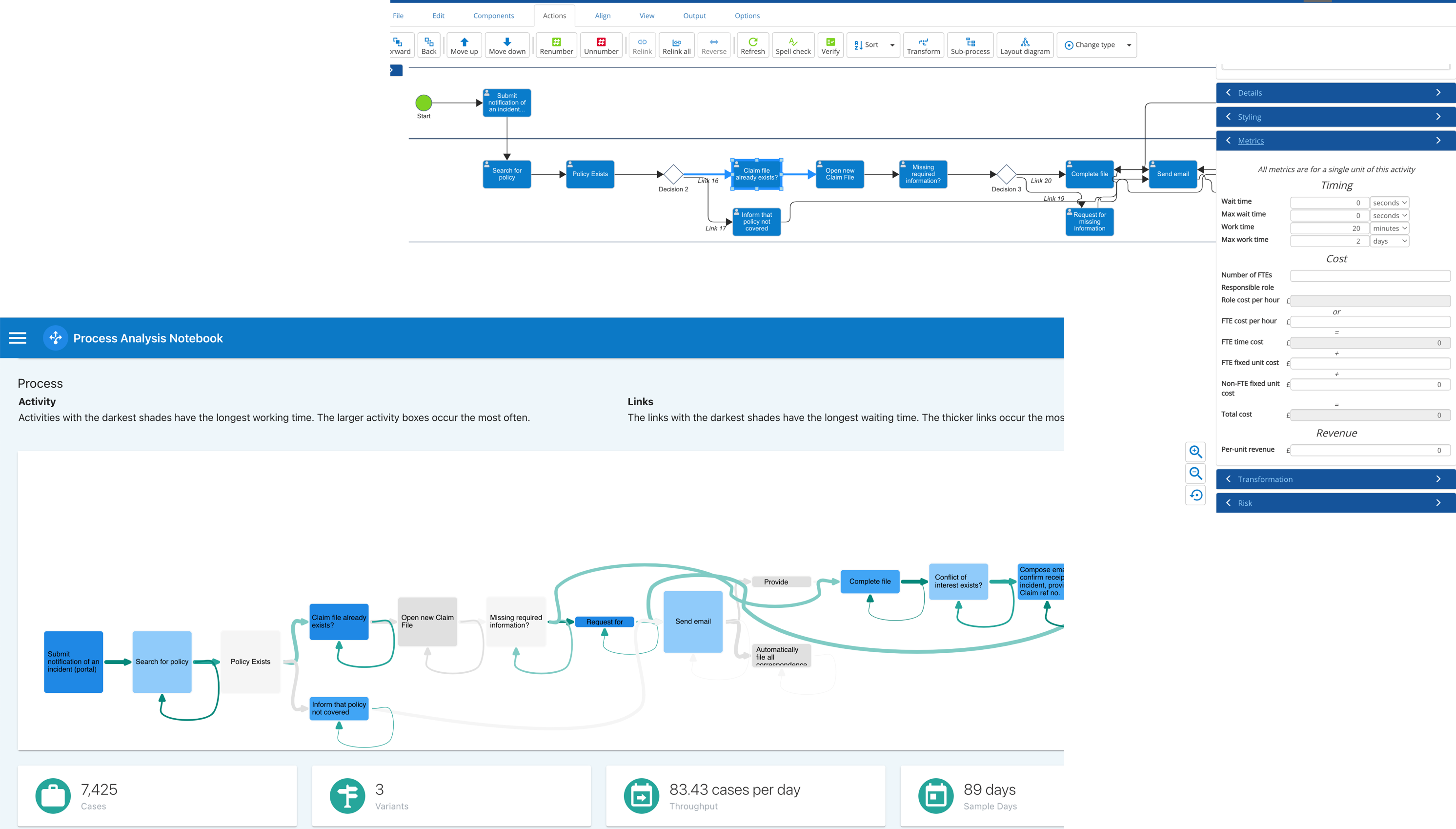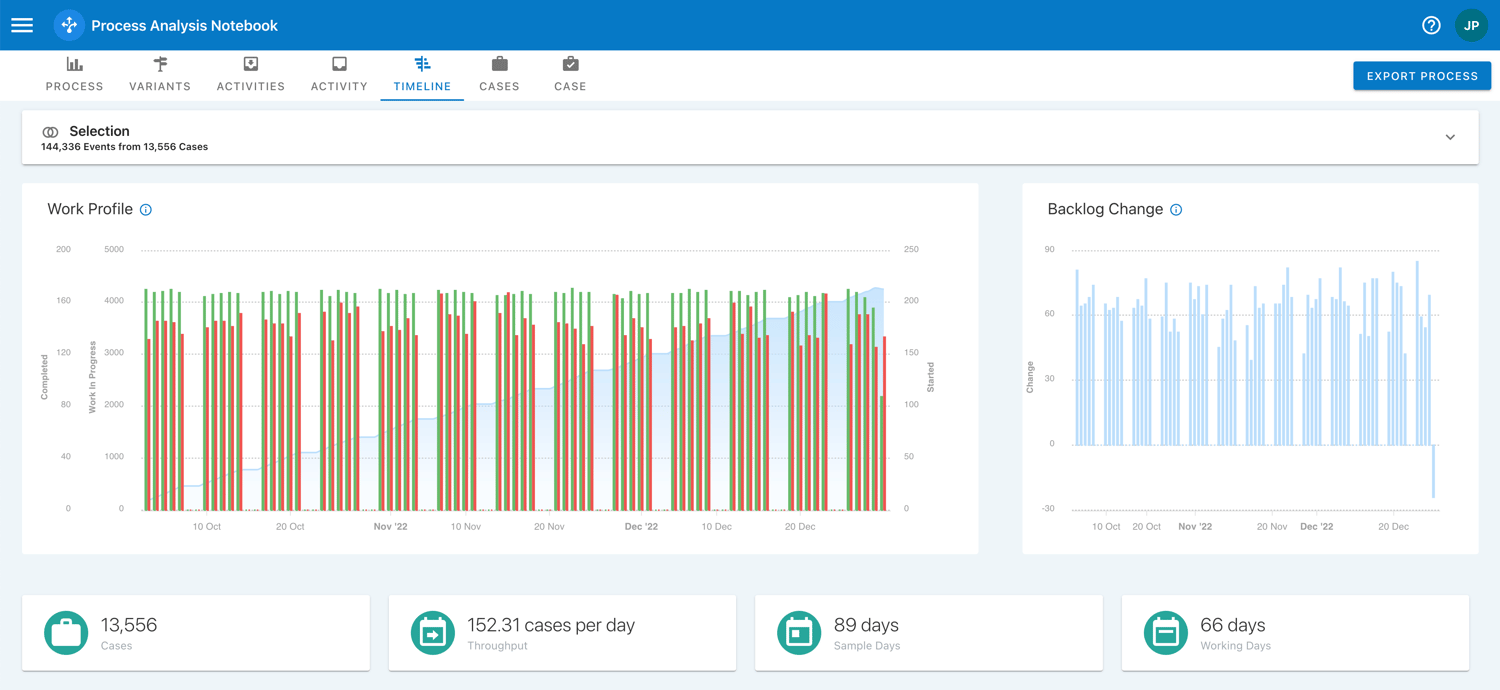 Optimizing your business processes with BusinessOptix: A game changer for process analysis and improvement
Process mining is a game changer for anyone responsible for process analysis and improvement. Whether you are a process owner, engineer, analyst, transformation lead, consultant, or compliance or audit officer, process mining provides powerful tools to create fact-based business cases, deliver continuous process improvements and compliance, and create and monitor process performance metrics.
Process mining can be used in a wide variety of use cases such as improving financial operations by reducing debtor days and improving working capital, improving customer service by making solving customer problems faster, improving customer experience by eliminating friction in customer journeys, ensuring compliance with regulations, improving the new employee experience in HR onboarding, improving resource utilization in manufacturing, improving supply chain flows in retail and standardizing processes for efficiency.
Wherever process data exists, the ability to effectively mine and analyze the data supports process improvement. With BusinessOptix, you can uncover hidden inefficiencies and opportunities, and create a data-driven approach to optimize and improve your processes.
"BusinessOptix is one of my favourite tools for Process Modeling, but it offers so much more than just that – it gives us, as consultants, a wide array of tools to bring value to our customers, including process mining, transformation scenarios, Kanban boards, work instructions, documentation, and many more."
Find out how the BusinessOptix End-to-End Platform helps you Discovery, Design & Deliver Your Processes