Scenario Modeling & Simulation
Scenario Modeling & Process Simulation help improve your ability to move quickly and reduce risk by creating, testing and learning about potential changes before they are rolled out to your customers and employees.
Use BusinessOptix scenario modeling and process simulation tools to identify and compare opportunities to improve and optimize your current processes.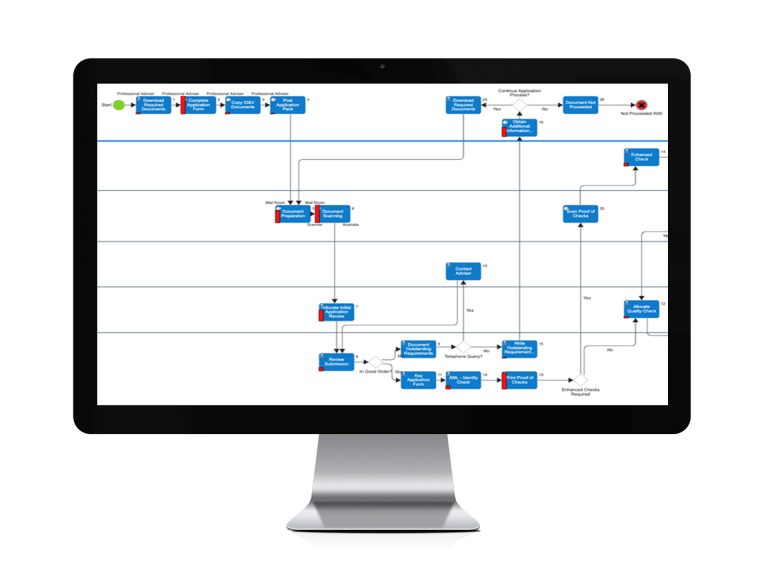 Model and Simulate
Predicting how a change or series of changes will impact your organization is a difficult task. We provide you with the tools to explore and test how different processes would operate if implemented, providing insight to help guide decision making.
To get started, take the processes that were mined and mapped and use our platform to:
Model future options and ideas

such as creating a standardized process which has several versions in the organization, taking steps out of a process or increasing resources to complete specific activities

Run simulations

to compare options and evaluate what will have the most positive impact

Implement the preferred option

including documentation and guided work instructions to ensure the organization executes on the plan
Get Started Today
We're ready to help you achieve your business process transformation goals. Click below to request additional information or start a free trial.
Continuous Improvement
Once the new process is released into production, our platform allows you to compare the actual results with those that were predicted during the simulation. Using tools like process mining to continue to incrementally improve your processes.
"As a result, BusinessOptix is part of our long-term strategy to deliver practical transformation solutions based on our digital capabilities, domain expertise, and process excellence practices."
Find out how the BusinessOptix End-to-End Platform helps you Discovery, Design & Deliver Your Processes