Target Operating Model Design
Create a target operating model that the entire organization can use as the north star for how they should execute.
With BusinessOptix, you can define, visualize and optimize a broad range of operating processes, strategies, and workflows to your operating model, ensuring they are all aligned to the needs of your business. As the business climate changes, you can manage transformations to the operating model, the same as processes, to ensure your business stays ahead of the competition.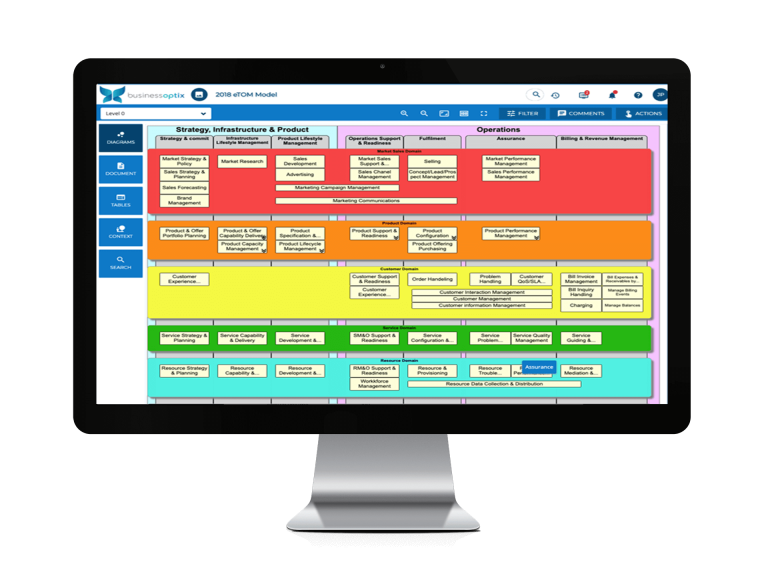 Visualize & Optimize Your Operating Model
With this visualization you can then start working on the process layers – in doing so, creating an end-to-end view that links each function and illustrates the flow of processes across the organization.
Defining the target operating model before getting into the detail of process redesign allows organizations to understand the big picture and see how changes will fit together. The outcome – they are able to prioritize their efforts and move as one on their transformation journey.
At a functional level, our platform enables you to:
Model the 'as is' and 'to be' operating model

Map people, processes and systems, at functional and organization wide levels, into your operating model, so you can see how they are used today and plan for their future use

Prioritize and plan your change and transformation initiatives

Clearly document and communicate changes to all stakeholders
Get Started Today
We're ready to help you achieve your business process transformation goals. Click below to request additional information or start a free trial.
"BusinessOptix has enabled us to capture our process knowledge and create an environment where continuous improvement is ingrained in our work"
Find out how the BusinessOptix End-to-End Platform helps you Discovery, Design & Deliver Your Processes