Transformation Planning & Analysis
Make change more than just an idea with transformation planning tools from BusinessOptix. Help turn your vision into reality by defining clear goals, setting milestones, and establishing realistic timelines.
Having established your Target Operating Model, utilize transformation maps and dashboards to set, manage and communicate details of your initiative to all your stakeholders to ensure you meet the objectives you have defined.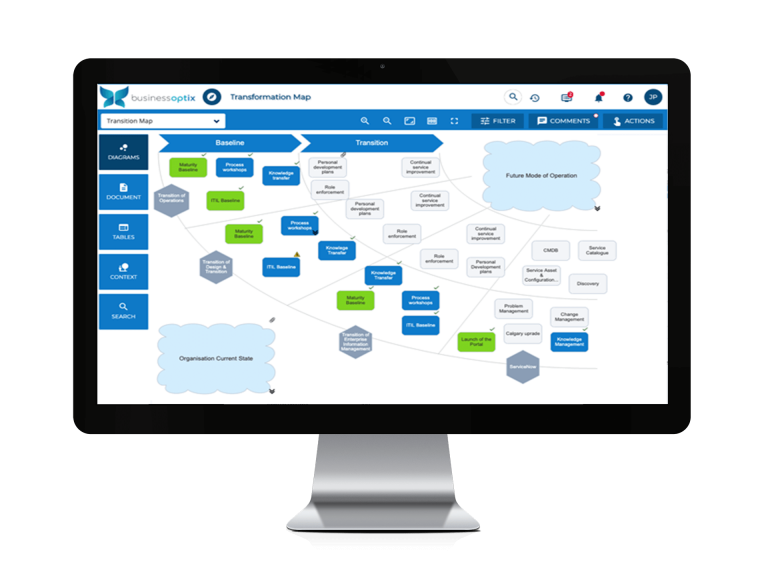 Change That Is Visible To All Stakeholders
Initiative owners, sponsors and senior stakeholders can use our platform to plan, execute and communicate transformation strategies. Each transformation map includes details of the goals tied to work streams and milestones.
At an activity level, Kanban boards will help visualize and manage each stage of progress. The built-in flexibility of the transformation planning tools means it's quick and easy to add specific work items and manage these through to completion.
Get Started Today
We're ready to help you achieve your business process transformation goals. Click below to request additional information or start a free trial.
Transformation Reporting
We provide a mix of out-of-the-box and configurable reports and dashboards that enable you to track initiative progress.
Out-of-the-box reports include details of milestones and the current rate of progress; prioritized workstreams and work items (each with a target for completion and the actual progress to date), and resource utilization and performance.
Custom reports can also be created to leverage your unique data set, providing tailored views of your initiatives. For example, create a dashboard to provide an itemized view of the initiative, grouped by area of the business, priority, and progress against each priority.
"BusinessOptix has put us in control of our initiative and expedited our business transformation"
Find out how the BusinessOptix End-to-End Platform helps you Discovery, Design & Deliver Your Processes